Follow This Step-by-Step Guide to Sell Your Home
Selling a home may seem like a daunting task. But it's not as difficult as some may think.
Yes, it's mission-critical, especially when it concerns what is probably the biggest asset in your portfolio. But the path is well-worn and documented. If you simply follow the steps outlined here, the entire trip will be much easier.
Here is a step-by-step guide to move you from start to finish:
1. Get Help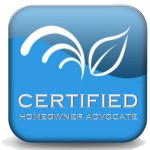 The statistics are clear: "For Sale by Owner" properties sell on average for 20 percent less than those marketed and shepherded by a Realtor. With broker commissions factored in, that's still a net loss for the seller. And don't forget the additional legal liability and headaches that could result.
Many sellers opt for a relative or friend who has a real estate license. Savvy homeowners seek out a Certified Homeowner Advocate, who is specially trained and committed to put your financial interests ahead of their own. Because they know not all agents are alike.
Is your agent a

Homeowner Advocate

?
Questions you should ask during your listing agent interviews.
Everything's negotiable, including the listing contract term and broker commission.
Every agent should provide a "net sheet" that shows you the cost of selling your home and the bottom line you can expect to receive.
2. Price Your Home
Agents use current market data and the economic climate to accurately value your home.

Price your home correctly

, or pay the price.
Automated valuations like those provided by

Trulia can be inaccurate

by as much as 40 percent.
3. Prepare for the Market
4. Pre-Listing Reports: Title, Termite
Before you negotiate with a buyer, you need to know if there are any unforeseen problems that could affect your bottom line.
5. Seller Disclosures
Before your home goes on the market, your agent will provide a packet of legally mandated disclosure forms. Complete them right away so they can be delivered to the buyer within days after agreement. (These disclosures are not provided by For Sale By Owner escrow services.)
A homeowner is required by law to

disclose material facts

about their house to a buyer.

Your agent will also order a Natural Hazard Disclosure, which details fire, earthquake and flood zones, among other issues.
6. Market Your Home
7. Show Your Home
A secure real estate Lockbox will get you more showings than restricting showings to only appointments.
Keep your home looking (and smelling) presentable until the sale is closed.
Strangers are going to be walking through your house. But not everyone gets to come in.

Trust your gut

.
Open houses are a great marketing tool.
Here are the top tips to make your home show well.
Always ask for buyer and buyer agent feedback after a showing.
If you try to sell during the holidays, you'll find fewer buyers, which could translate to a lower sales price.
Spring and summer are real estate season. Your home will show better and you'll have more buyer competition.
8. Negotiate Offers
9. Open Escrow
After you and your buyer have agreed on sale terms, your agent will open an escrow to oversee the transaction.
The escrow officer will send you "instructions" and documents to sign, including a grant deed that must be notarized.
Your buyer will send their

earnest money deposit

to escrow within the first few days.
If your home is in a homeowner's association, the escrow officer will order HOA documents, after the buyer and seller return signed escrow instructions.
10. Prepare for Inspections
Your buyer typically has up to 17 days to complete their due dilligence, including a physical home inspection.
A professional home inspector will usually target specific areas of the home.
Your buyer may want a roof inspection and certification.
If the property has a septic system, a septic certification may be required.
Buyers also have the right, and responsibility, to inspect any other systems or issues, including seller disclosures, crime statistics, property taxes, mold, foundation, commercial development, zoning ordinances, etc.
11. Schedule an Appraisal
12. Repair Requests
After inspections, a buyer may make a request for repairs. Sellers are not required to acquiesce, but the buyer can also cancel their purchase.
The buyer should provide a copy of the inspection report, along with any repair request.
Instead of repairs, a buyer and seller might agree on a price reduction or buyer closing cost credit.

Sometimes the buyer's appraiser will call out items for repair as a condition of funding the loan. Those repairs must be completed (by seller or buyer) and photographed by the appraiser.
13. Remove Contingencies
Most contracts call for a 17-day contingency period for all inspections, appraisal and loan approvals.
Contingencies typically must be removed in writing by the buyer. Until the contingency-removal form is signed, the buyer still has an escape route.
Sellers can demand in writing that a buyer remove contingencies, or cancel them if they refuse.
14. Buyer Loan Docs
With appraisal in hand and all documentation satisfied, the lender will issue loan documents for the buyer to sign.
Buyers can sign loan docs at the escrow office, or a mobile notary can be dispatched to sign them at another location.
The buyer must immediately wire to escrow/title the remaining balance of their down payment.
15. Escrow Closes
Within a few days, the lender will wire the mortgage funds to the escrow/title company.
When all funds have been received, the escrow officer will release the file to be recorded with the county, signaling a closed escrow.
The buyer will take possession of their new home that day, or perhaps as many as three days later, depending on the contract terms.
Thinking about selling a home? Want to know the best strategies to sell your home today? Call us today at 951-778-9700 for a 10-minute consultation.
illustration courtesy of vectorolie, Stuart Miles, FrameAngel, phasinphoto, David Castillo Dominici, smarnad | freedigitalphotos.net (Hover over photo for credit and link).
Home-Selling Process | Selling a Home in Riverside | Home-Selling Process | How To Sell Your Riverside Home | Brian Bean and Tim Hardin Dream Big