Home Staging Will Help You Sell Faster and For More Money
Smart home sellers know that to sell their home for the highest possible price, they have to do stand out from the crowd.
That's where home staging comes in.
Staging a home involves decorating and outfitting and, in some cases, even furnishing a property to attract a buyer. New-home builders stage their "model homes" with beautiful accessories and upgrades to wow prospective buyers.
Your real estate agent may be able to help you stage your home. But not every agent is capable. This is a skillset for those with an eye for aesthetics and design. A professional home staging expert may be a better choice if your home is high-end.
Staging doesn't start until you've finished cleaning and making repairs. Here are some guidelines on staging a home:
Remove the Clutter
Clear all flat surfaces: No more than one item (decorative) every six feet of linear space. Grungy toasters and other daily essentials can go in a box, hidden away in a cabinet or closet.
Clean walls: No more than one wall hanging or photograph per section of wall. Contrary to what some might say, it's OK to have a family photo here and there. But don't overdo it.
Empty shelves: Pack up all of your books, fine china and knick-knacks. They may be dear to your heart, but they also draw attention away from the room.
Remove excess furniture: Take out all but the most appealing and necessary items to make your house look even better.
Use an empty box for each room and clear the chaos. You can neatly stack those boxes in the garage; no buyer will think twice about it.
No room in the garage? Rent a storage unit and put all your excess items and boxes there for safe-keeping.
Accessorize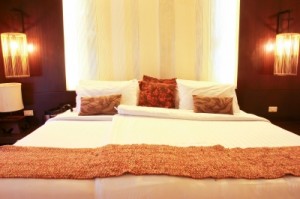 Here are some items that can add flare to otherwise-dull rooms:
Plants
Flowers
Floor & Table Lamps,
Area and Throw Rugs
Small Love Seats (replace couch)
Mirrors
Afghans or decorative throws
Pillows
Inflatable Beds
Baskets
Decorative bath towels, rugs and accessories
Cookbooks, decorative food containers and fruit bowls
Inexpensive valances or draperies
Set the Mood
When buyers are expected for a showing or open house, you want it to be at its best.
Lighting: Turn on all lights, even if you're going to work for the day. When buyers walk in, you want the home well-lit, which makes it look larger.
Odors: A smelly house will kill your home sale, or at least your profit margin. Pet odors are the most common affliction. You may have to find a way to deal with animals that won't behave. Also, think about what you cook while on the market. Chocolate chip cookies will woo a buyer. Cauliflower will repel them. Do not leave lit candles or incense unattended. Try scented soaps and lotions instead.
Music: Leave your radio set to light FM music. If you don't have a stereo, turn your TV to an appealing music channel.
Don't Forget the Outdoor Space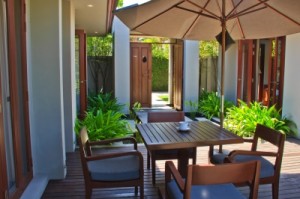 People love to spend time in their yards. Or at the very least, they have the perfect Saturday afternoon in their minds. Create a natural flow from inside to outside and back by staging your front entry and back patio.
A simple table and chairs, perhaps with an umbrella, adorned with a centerpiece or even a single flower in a vase can be a warm invitation. Set some potted plants around the patio, front and back. And seasonal decorations will make it feel more homey.
If you have a barbecue in the back, make sure it sparkles, and stow away the gardening tools, hose and toys.
Hire a Professional
Full-time home stagers can whip a home into shape with ease.
A stager can do as little as rearranging what you have or as much as renting furniture and accessories for a vacant house. Expect to pay from $500 to $5,000, depending upon size of the home and services needed.
But staging a home clearly works. Studies show that staged homes sell faster and for more money.
Need help preparing your home for sale? Would you like a referral to a professional home stager? Call us today at 951-778-9700 or use the form below and ask for a 10-minute consultation.
Artwork courtesy of Maggie Smith, nuchylee and tiverylucky | freedigitalphotos.net (Hover over photo for credit and link).
Staging Your Home to Sell | Prepare Your Home to Sell | Riverside CA Real Estate | Brian Bean and Tim Hardin Dream Big