Tips To Help Keep You Safe During Your Home Sale
When a home goes on the market, sellers accept the fact that strangers will be walking through their house.
But few take the precautions necessary to ensure they're protected and safe.
Here are some tips to stay safe, and keep the honest people honest:
Documents: Do not leave sensitive documents such as bank statements, credit card bills or mortgage statements in plain site. In fact, it's best to put all of these items in a locked file cabinet.
It's not unusual for a buyer to open drawers and closet doors, built-in desk drawers included. In the wrong hands, your private account numbers, social security numbers and financial data can lead to identity theft. Or at the very least, it could give a buyer the knowledge they need to make a lower offer.
Mail: Avoid leaving stacks of your mail lying around. Too many credit card statements? Collection statements? Envelopes from the IRS or other sensitive senders can give a buyer leverage for lower offers.
Firearms: Obviously, you shouldn't leave your guns lying around for anyone to pick up, or take with them. A gun safe is a good solution. A better one, though, might be to remove firearms from the residence altogether. Some people are fervently in favor of gun control, and it could drive away potential buyers.
Family Strife: Family difficulties can create financial difficulties. Buyers know this, so make sure you don't advertise your pending divorce or child custody dispute. Don't leave closets obviously half-empty, as if one spouse has moved out. Make everything look as "normal" as possible.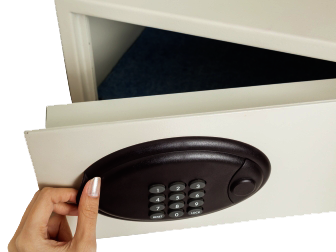 Also, if only one spouse remains in a home, it could communicate opportunities for people who prey on those situations. Single women, make it look like your home is occupied by more than one adult.
No Entry: If you don't have a lockbox on your property for licensed agents to show a home, we'll assume you require appointments. It's not unusual for aggressive buyers or agents to show up unannounced and ask to see a home without an appointment.
Never, ever let them in.
A buyer should always be accompanied by an agent. And an agent who doesn't make an appointment will likely be unprofessional during a transaction as well. But reality is, you don't know for sure if they are who they say they are. Anyone can have a business card printed.
Politely tell them to call your agent and set an appointment. Regardless of how much they beg, do not open the door.
Trust Your Gut: If a buyer or agent has made an appointment to see your home, but something doesn't feel right as they are walking to the door, better to be safe than sorry. Do not open the door. Inform them that an emergency has come up and that you are very sorry, but they will have to make another appointment – with your agent.
Thinking about putting your home on the market and want more information on protecting yourself? Call us Today at 951-778-9700 or use the contact form below and ask for a 10-minute consultation.
Illustrations courtesy of suphakit73 and FrameAngel | freedigitalphotos.net  (Hover over photo for credit and link).
Home Sale Security | Protect Yourself and Your Privacy | Home Sale and Privacy | Riverside Homes for Sale