You Need a Guide to Help You Through the Complex Process of Selling a Home in Probate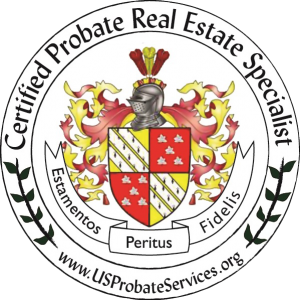 We are Probate Estate Advocates, helping buyers and sellers in probate and estate transactions. Our mission is to professionally and efficiently help executors, administrators, trustees, conservators and attorneys so that they can focus on their tasks, knowing that the property sale is handled.
And we are Certified Probate Real Estate Specialists, among the few in the real estate industry specially trained in the intricacies of probate real estate.
We work with the most skilled attorneys and administrators in Southern California to help our clients navigate through a complex and sometimes stressful process.
As Advocates, our Fiduciary Duty is our No. 1 priority. We always look after the best interests of the estate and seek the highest possible sale price for its assets.
We know how to prepare a property for the market so that it can attract the highest possible price in the shortest period of time. We work with trusted vendors, contractors, and trades people and can oversee the maintenance, repair, staging and security of your properties.
That all translates to making your job easier, completing it quicker and allowing you to get back to some normalcy in your life.
Our responsibilities include:
Negotiating contracts and offering alternatives.
All-encompassing Maximum Marketing through our 151-Point Marketing Plan
Constant communication with all parties.
Proper pricing advice and insight to the local market and economy
Overseeing property maintenance and repairs.
We learned a long time ago to Serve Others First, to put the financial well-being of our clients ahead of our own. It keeps us grounded and lets us sleep well at night. The happy byproduct has been a vibrant and growing business.
While others in our industry are focused on their own commissions, we are focused on our clients most critical needs. Acting Right has helped us create Clients for Life.
For More Information, Contact Us Below
Probate, Conservatorships and Trusts | Probate Real Estate | Selling Home in Probate | Brian Bean and Tim Hardin Dream Big