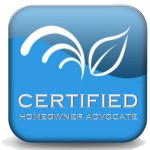 Today's real estate market has it own special flavors of frustration for some home buyers and sellers.
Low inventory and rising interest rates continue to vex buyers as they battle cash investors.
Homeowners who were underwater on their mortgages just a year or two ago are now giddy to find they have equity. But they are unsure about when to jump into the fickle market.
History may be repeating itself, and people who forget the painful lessons of the last real estate cycle will get sucked right back into the vortex of greed and bad decisions.
Consumers, whether seeking their first home or looking to sell and move up, can protect themselves, with the right help.
And real estate agents who saw the financial carnage of the last crash are still their best guides. As long as they are Certified Homeowner Advocates who put your best interests ahead of their own, who help you make financially responsible homeownership a reality, and who won't push you into a purchase or sale simply to generate a commission for themselves.
Some basic guidelines to help you find a true Homeowner Advocate:
Educators
Where do you get your news? It's the all-important question.
Consumers using the major media – or, worse, their friends, family and neighbors – for queues are likely to be six to 12 months behind. Major media reports facts and results for events that occurred several months prior. And they don't all see the trends at the same time.
Your true Homeowner Advocate is an educator first and will help you understand:
Market Conditions: What is happening in your neighborhood and where do the trends point? What is the inventory today vs. a year ago and historically, and how will that affect your home sale or purchase? Should you buy or sell now, or should you wait?
A true Homeowner Advocate will inform you about what's happening today so you can make the best financial decision for your family.
Process: How much time will it take to buy or sell a home? How much money do you need to buy a home, and when do you need it? How do you properly qualify a prospective buyer for your home? When should you get a home inspection?
A Homeowner Advocate will take you through the entire process, go over every paragraph of every document, and make you an educated buyer or seller. Theywill ensure you know what you are getting into and what you are signing.
Compete and Win: As a buyer, how do you write a winning offer? How do you get the best possible price? What should you expect in a short sale, bank-owned home or standard equity sale?
As a seller, how do you make sure you get the best offer for your home? Should you spend money to make improvements? How should the home be marketed?
There are strategies that work in every market. A true Homeowner Advocate will help you compete and save you money and time, while other people struggle and curse the market conditions.
Planners
Most people want to pursue the American Dream of homeownership. But a high-flying market can nudge people off course. The lure of fantastic returns makes ordinary people think they can get rich quick as investors.
A good plan, with a goal in mind and steps laid out, will help you stay on course, avoid distractions and make good decisions for the long term.
Guides
If we learned anything from the last market crash, we learned that too much debt is dangerous. It is decidedly harder to get a mortgage today, but as the market continues to rise, loan amounts also increase.
Homeowners are once again tapping home equity, following the same perilous path that put many people out of their houses in the last few years.
And weary homebuyers are making higher and higher offers to compete with cash buyers, ballooning house payments and leaving them with no cushion. That puts them one bad water heater away from default.
A Certified Homeowner Advocate will not allow their client to over-leverage when they buy a home. They will not allow their home sellers to suck the equity out of their home to make foolish purchases.
A home can be your greatest asset and investment, but don't expect overnight returns. The compounding effect of time, rising values and principal paydown will grow your investment on its own. If you embrace the process and have patience.
I Want Help or Advice from a Certified Homeowner Advocate
Is Your Agent An Advocate? | Homeowner Advocates | Riverside Real Estate Agents | Sell a Home in Riverside | Brian Bean and Tim Hardin Dream Big