What You Should Know About Selling a Home in Probate
Before the death of a loved one, too few people worry about how their estate will be handled. But after someone passes, survivors are often buried by the avalanche of responsibility and the huge workload.
For those left to navigate the complex and thankless probate process, here are some answers to common questions for executors and administrators of an estate.
What is probate?
Probate is the legal process for the transfer of assets – houses, cars, stocks, personal belongings, etc. – from the deceased person's name to his or her estate so they can be sold or distributed to the heirs. Probate, which takes place in the county of the decedent's residence, validates the terms of a will (if there is one), appoints a personal representative, and pays creditors before distributing what remains to the heirs.
Do I need an attorney?
Though an attorney is not required to file a petition for probate in California, it's usually a good idea to have one. The probate process has strict rules and timeframes, and probate attorneys are well-versed. An executor or administrator acting "in pro per" for an estate could cost themselves time and money with just one miscue.
(Need a referral to an accomplished probate or estate attorney? Call us today at 951-778-9700 and we'll connect you with one.)
Will I have to go to court?
Not necessarily. If the assets of an estate were put in a trust or if the personal representative of the estate has "full authority" to oversee and liquidate the estate, court confirmation may not be required.
An administrator with full authority can choose a real estate agent, market the property, accept an offer and start the escrow process. However, a special notice must be sent to all heirs with details about the offer, and it includes a 15-day window for objections. If no one objects, the sale can move to closing.
In cases where the administrator or executor has "limited authority," a court confirmation is usually required to approve the sale or distribution of the estate's assets. Limited-authority cases require specific steps, especially when real estate is involved.
How long does probate take?
The entire probate timeline can run 9-18 months, depending on the complexity of the estate, whether the decedent left a will, how many assets must be dealt with, and how cooperative the heirs are.
The sale of real estate can occur early in the process – usually after about 60 days, when the Letters of Administration or Orders for Probate are issued.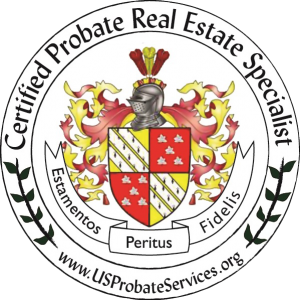 Do I need a real estate agent?
Other than an attorney, your most valuable resource will be a Certified Probate Real Estate Specialist. Realtors with this exclusive experience and training can help ensure nothing falls through the cracks during the probate process. They also can connect you with other experts to make your job easier.
For instance, you may need an estate-sale company, art or antique appraiser, auto appraiser, locksmith, trash-out service, cleaning service, pool or landscape service, or even a good charity for unwanted personal property.
How do I price the home?
Your Certified Probate Agent will help you set a list price that takes into account recent market data, current market trends and property condition. A probate property usually does not generate a lower sales price than a traditional real estate sale. Some buyers and agents, however, are hesitant to pursue homes that require court confirmation, perhaps because they are unfamiliar with the process. That's where your listing agent comes in.
Your agent should be willing to show the property to potential buyers and explain the process in detail to anyone who may be interested in the home.
What about marketing?
Marketing is the single-most-important factor to ensure the home sells for the highest possible price in the shortest period of time. In addition to placing the home in the local multiple listing service, the marketing plan should include visible signage, a heavy online presence (our listings appear on nearly 300 websites), the maximum number of high-quality photos allowed, a video tour of the property (actual video, not just photos stitched together), open houses, mail or fliers to the surrounding neighborhood, etc. 
Your agent should provide you with a written marketing plan that details each and every element they use.
How do I get my life back?
We know, the probate process can be a long and exhausting road. You'll learn a lot about the process and about your fellow heirs along the way.
The surest way to efficiently complete your task is to make sure you have the right people helping you along the way. Pick a good attorney, not the cheapest one. Choose an experienced Probate Real Estate Specialist, not just an agent who helped you buy a home years ago. Focus on those two partners so that you can finish the probate and get back to some normalcy in your life. 
Need a referral to a good probate attorney or estate planner? Call us today at 951-778-9700 and we'll connect you with a local expert.
illustrations courtesy of Kittisak, graur razvan ionut | freedigitalphotos.net  (Hover over photo for credit and link).
For More Information, Contact Us Below
Probate Q&A | California Probate Sale | Selling Home in Probate | Probate Real Estate | Brian Bean and Tim Hardin Dream Big Realty ONE Group Champions