Our column from the Riverside Press-Enterprise, Aug. 9, 2014: 
By Brian Bean & Tim Hardin
Before the death of a loved one, too few people worry about how their estate will be handled. And after someone passes, survivors are often caught off guard by the huge workload and heavy responsibilities. For those left to navigate the complex and thankless probate process, here are some answers to common questions for executors and administrators of an estate.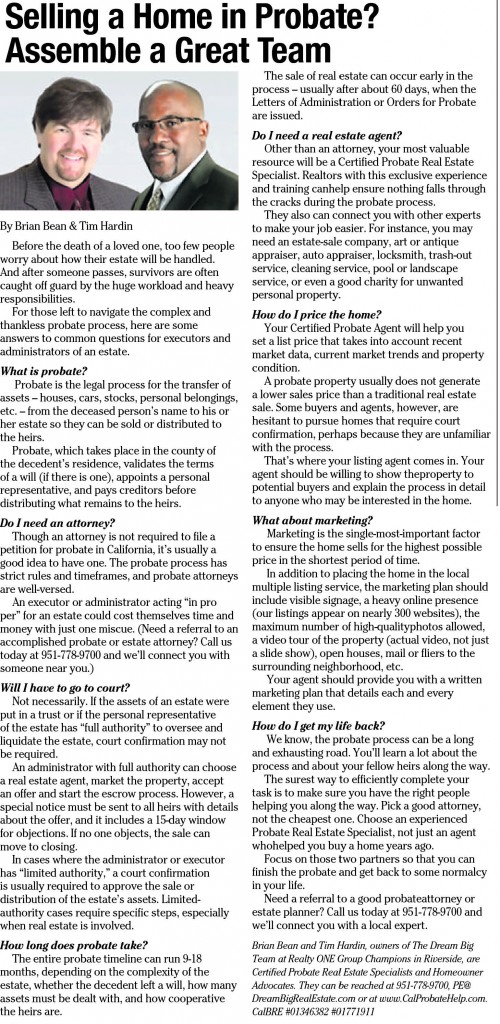 **********
(Brian Bean and Timothy Hardin are Homeowner Advocates & Certified Probate Real Estate Specialists with The Dream Big Team at Realty ONE Group Champions in Riverside, California. They can be reached directly at Info@DreamBigRealEstate.com or 951-778-9700.)
Brian Bean and Timothy Hardin
Homeowner Advocates & Home Listing Specialists
Realty ONE Group Champions
DRE Lic #01943304
Info@DreamBigRealEstate.com
What's happening in the Real Estate Market today? CLICK HERE for more information.
Want to know if we're legit? Do your homework. Check us out at www.google.com www.yahoo.com www.bing.com.
https://www.DreamBigRealEstate.com
https://www.ReviewDreamBig.com
https://www.FASTimate.org
If one advances confidently in the direction of his dreams, and endeavors to live the life which he has imagined,
he will meet with a success unexpected in common hours.

Henry David Thoreau
Selling a Home in Probate | Probate Home Riverside Calif | Probate Real Estate Agents Riverside | Brian Bean Tim Hardin Dream Big Realty ONE Group
Published on 2014-08-09 09:33:19