Our column from the Riverside Press-Enterprise, Oct. 25, 2014: 
By Brian Bean & Tim Hardin
As November elections approach, Californians facing foreclosure or working on loan modifications anxiously wait to see if they will face massive tax bills. This is a solution for individuals with weak credit history
Lawmakers, who failed to extend the federal Mortgage Forgiveness Debt Relief Act at the end of last year, remain head-down in politics and focused on control of their legislative bodies. Meanwhile, tax break extension bills have been sitting in committees for months.
Today, for Californians, only short sales are protected from hefty tax bills, shielded by different legislation that does not expire. …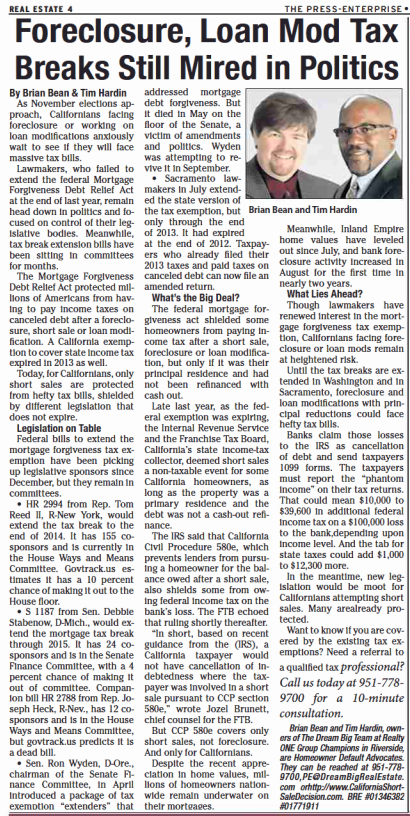 **********
(Brian Bean and Timothy Hardin are Homeowner Advocates & Home Listing Specialists with The Dream Big Team at Realty ONE Group Champions in Riverside, California. They can be reached directly at Info@DreamBigRealEstate.com or 951-778-9700.)
Brian Bean and Timothy Hardin
Homeowner Advocates & Home Listing Specialists
Realty ONE Group Champions
DRE Lic #01943304
Info@DreamBigRealEstate.com
What's happening in the Real Estate Market today? CLICK HERE for more information.
Want to know if we're legit? Do your homework. Check us out at www.google.com www.yahoo.com www.bing.com.
https://www.DreamBigRealEstate.com
https://www.ReviewDreamBig.com
https://www.FASTimate.org
If one advances confidently in the direction of his dreams, and endeavors to live the life which he has imagined,
he will meet with a success unexpected in common hours.

Henry David Thoreau
Foreclosure Loan Mod Tax Breaks Still Mired in Politics | Short Sale in Riverside CA | Mortgage Debt Relief | Brian Bean and Tim Hardin Dream Big
Published on 2014-10-25 10:07:54