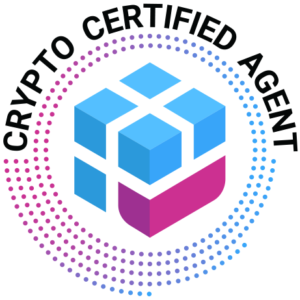 Blockchain and Smart Contracts and How They Will Impact Real Estate
Change is underway in real estate.
When people think of crypto and real estate, they think of homes being purchased with Bitcoin or some meritless digital currency. But the coming change is in the way real estate transactions are processed, verified and documented, and how properties are transferred, not what currency the buyer and seller use. Blockchain and smart contracts — technology created in the advent of cryptocurrency — are the perfect solution to make buying and selling real estate more efficient, faster, less expensive, and more transparent.
The emerging technological advances are a mystery to all but a few real estate agents. But we are among those with the education and experience to help you traverse and understand the world of crypto and real estate. We are Crypto Certified Agents with the knowledge to guide you through the process. And we are Ambassadors of the Crypto Real Estate Alliance, educating other real estate professionals on the coming revolution.
Interested in finding out more about crypto and real estate? Are you a real estate agent who wants to make sure they don't get left behind? Call us today at 951-314-5402 for a consultation.
I Want Help or Advice from a Crypto Certified Agent
Find a Crypto Certified Real Estate Agent? | Homeowner Advocates | Riverside Real Estate Agents | Blockchain Real Estate | Bitcoin and Real Estate | Sell a Home in Riverside | Brian Bean and Tim Hardin Dream Big