The Dream Big Real Estate Team Home-Marketing Plan to Sell a Home
Our Responsibilities to You
At the beginning of our relationship, we explain our obligations to our clients, as Homeowner Advocates who put their financial well-being first. We are educators and counselors, and we always detail the process, expectations and costs for our clients.
Marketing Strategy
We advise our clients on the most advantageous way to offer their home for sale, based on property condition, the current economic cycle and real estate market, the clients' financial position, and the available timeframe. Strategies can include a conventional approach, suggested repairs or staging, property-showing methods, mortgage takeover or assumption, second mortgage, purchase-money mortgage, lease-purchase or other methods of sale.
The 'Max Marketing Package'
All of our clients' homes are fully exposed to the greatest number of potential buyers possible. Normal marketing channels include:
PHOTOS: Maximum number of photographs to showcase the home's qualities and increase buyer views.
VIDEO TOURS: Professionally produced movie video tours with tone-setting music and voice talent describing your home's features. (This is NOT just a slide show.)
DESCRIPTION: A lively and attractive written description designed to "sell the lifestyle" of the home and evoke interest. (No clichés allowed)
LOCAL WEBSITES: Featured Listing status on our top-rated local real estate website.
YOUR OWN PROPERTY WEBSITE: We help you stand out from the competition with an easy-to-load, mobile-ready website dedicated only to your home. It provides multiple photos, video tours and all the critical information about your home.
TEXT MARKETING: 75% of homebuyers use their mobile devices to find and research homes. We make your home's website available via text or email, accessible from in front of your home!
MOBILE-FRIENDLY WEBSITES: Custom postings on multiple websites geared for mobile users, including phone and tablet screen sizes, accessible via the Apple OS, Android or Windows Mobile platforms. Sites include Realtor.com, Zillow, Trulia, RedFin, Homes.com and DreamBigRealEstate.com.
PUBLIC REAL ESTATE WEBSITES: Enhanced presentation with multiple photos and video tours on hundreds of public real estate websites and portals to which we subscribe.
DIRECT MAIL: We send high-quality Just Listed/Open House postcards to homes surrounding our clients' listings, to showcase the properties and to attract buyers.
SOCIAL MEDIA: Custom postings on our social media channels, including Facebook, Twitter, YouTube, Pinterest, Instagram and Google+.
CLASSIFIEDS: Custom postings of the home on multiple online classified-advertising websites, including CraigsList, Back Page, eBay Classifieds, ClassifiedAds.com and OLX.
PRESS RELEASES: Professionally written press releases submitted to online press release service websites including PR.com, PRLog, 888 Press Releases, i-Newswire, PR.com, etc.
BLOGS: Custom posting on multiple real estate blog websites, including WordPress, Blogger, ActiveRain, RealTown, Merchant Circle, Examiner.com, LinkedIn, etc.
TALKING ADS: Recorded information about your home designed to illicit emotional responses and buyer interest, accessible via a toll-free telephone number.
OPEN HOUSE: Hosted Open Houses to capture drive-by buyers and neighbors.
NETWORKING: Presentation to local cooperating offices, regional and national brokerages, and relocation contacts.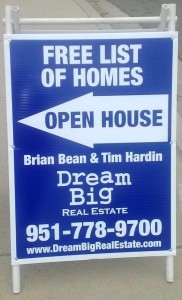 Preparing the Home
We advise our clients on how to prepare and stage a home in the most positive manner. We will not gloss over glaring physical defects and will make recommendations as to how problems can be corrected.
Appointments and Negotiations
We ensure all negotiations by interested parties and other agents are coordinated through us, the listing broker.
Marketing Information
We advise our clients weekly on buyer activity and interest, local market conditions and other factors that may affect the sale of a property. We provide an updated Comparative Market Analysis if warranted by increased or decreased market activity.
Qualified Listings
We recognize that only a "qualified listing" provides our clients the basis for the most comprehensive and effective marketing plan possible. This can be defined as a home listed with the following:
Complete and accurate details
Well-motivated clients
Competitive price by a market analysis and marketing strategy
A timeframe sufficient to market the home for the desired price and terms
Overpriced Homes
We advise our clients that we cannot properly represent nor professionally service listings that are overpriced, as we must be able to substantiate and defend our client's "BEST PRICE."
The Marketing and Closing Processes
We explain to our clients every step in the marketing and closing process, including the amount of "earnest money" that should be secured as a deposit and what contingencies may be considered unreasonable. We also explain the potential problems or benefits of every conceivable contract term we may encounter during the offer and negotiation process, which helps our clients later avoid delays.
Communication
We establish consistent communication with our clients, either via our private online portal, in person, by email or by telephone. We commit everything to writing to ensure there are no misunderstandings and everyone is on the same page. We advise on prospective buyer reaction and advise on the merits of all offers.
Special Relocation Assistance
We provide our clients with special relocation assistance if moving out of the area. This may include providing vital community facts on an area to which they are moving and setting up a competent service-oriented Homeowner Advocate in the area.
Thinking about selling your home? Have questions about the process or strategies to get the highest price for your home? Call us today at 951-778-9700 or use the form below and ask for a 10-minute consultation.
Illustration courtesy of David Castillo Dominici | freedigitalphotos.net
Home-Marketing Plan | Selling a Home in Riverside CA | Selling for Highest Price | Brian Bean and Tim Hardin Dream Big